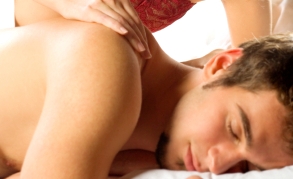 Our Tantric Massage involves a combination of traditional eastern and western massage therapy and sensual massage techniques. The Tantric Massage is designed to clear out any emotional, physical or energetic blockages in your body, and to open the Chakras, the channels of life force energy. You re-awaken your unlimited potential by sending that powerful sensual energy into any place you wish to channel it.
During a Tantric Massage session, you receive gentle instruction and encouragement in learning the art of Tantra. You will begin to learn techniques of breathing, mantra and movement during your tantric massage, and use them to channel that feeling of ecstasy throughout your body, mind and spirit.
You will notice how body and soul can easily let go into an unknown feeling of utter bliss. Our Tantric Massage supports you to let go, to relax into your senses and the magnificent experience of your own unique sensuality. After receiving a Tantric Massage, many men say that they have never before experienced being touched in such a sensitive way. Others say that their relationship to their bodies and their sexuality has changed permanently. You can relate to yourself in a new way once you are free of expectations and the need to perform and control. Boundaries dissolve and your sense of time disappears as you surrender yourself completely in the experienced hands of our Tantrikas. Old concepts of intimacy change as you experience your own body with new, finely sharpened senses. A liberating freedom from within occurs when you experience surrender without sexual exchange and mutual touching.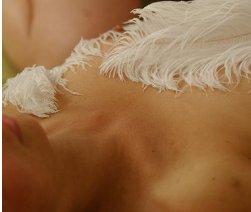 You may opt for a prostate massage at no extra cost if your session is 2 hours or longer. A prostate massage gives many men a heightened feeling of pleasure. We prepare for it through a sensitive and caring approach. This requires trust and surrender – the more relaxed you are when you receive the massage, the more deeply can you be touched. Anatomically speaking, the prostate corresponds to a woman's G-spot, and it can similarly produce more intense and longer lasting sensation. For most men a prostate massage is an especially pleasurable experience. By specializing in this area, we are able to give also inexperienced men this very sensitive experience. Men who receive such massages regularly experience an increased feeling of well-being. For well maintenance of the male functionality many medical doctors do recommend that prostate be massaged from time to time.
Tantric Massage for gentlemen can be performed in a naturist setting and incorporates Lingham massage with a full body sensual massage. For session of 2 hours or longer, a prostate massage would be included.
Tantra Massage for Gentlemen will be performed by our gorgeous and caring goddess Tantrikas. Should you want to be massage by a male Tantrika please specify when making the appointment.